Test how fast and reliable is Wi-Fi and Ethernet?
Online tests like Speedtest、Netflix's FAST and DSLReports will tell you how fast your Internet connection is overall, but the speed of your service provider isn't the only factor. Wi-Fi itself can greatly affect speed, latency, and reliability. And as broadband Internet connections get faster and faster, Wi-Fi has often become a bottleneck. iPerfman helps you test the speed and volatility of your Wi-Fi connection. iPerfman helps you test your Wi-Fi connection in isolation from your Internet connection.
How to test?
You need a computer to run it on that is connected to your home network's router with a network cable. It is best to run a soft router so that the router transmits data that is closest to the real Internet mode.
Step 1
You need to install iPerfman in macOS, open the listen, find the LAN IP address, such as 192.168.8.8, set it as the server, and click start button.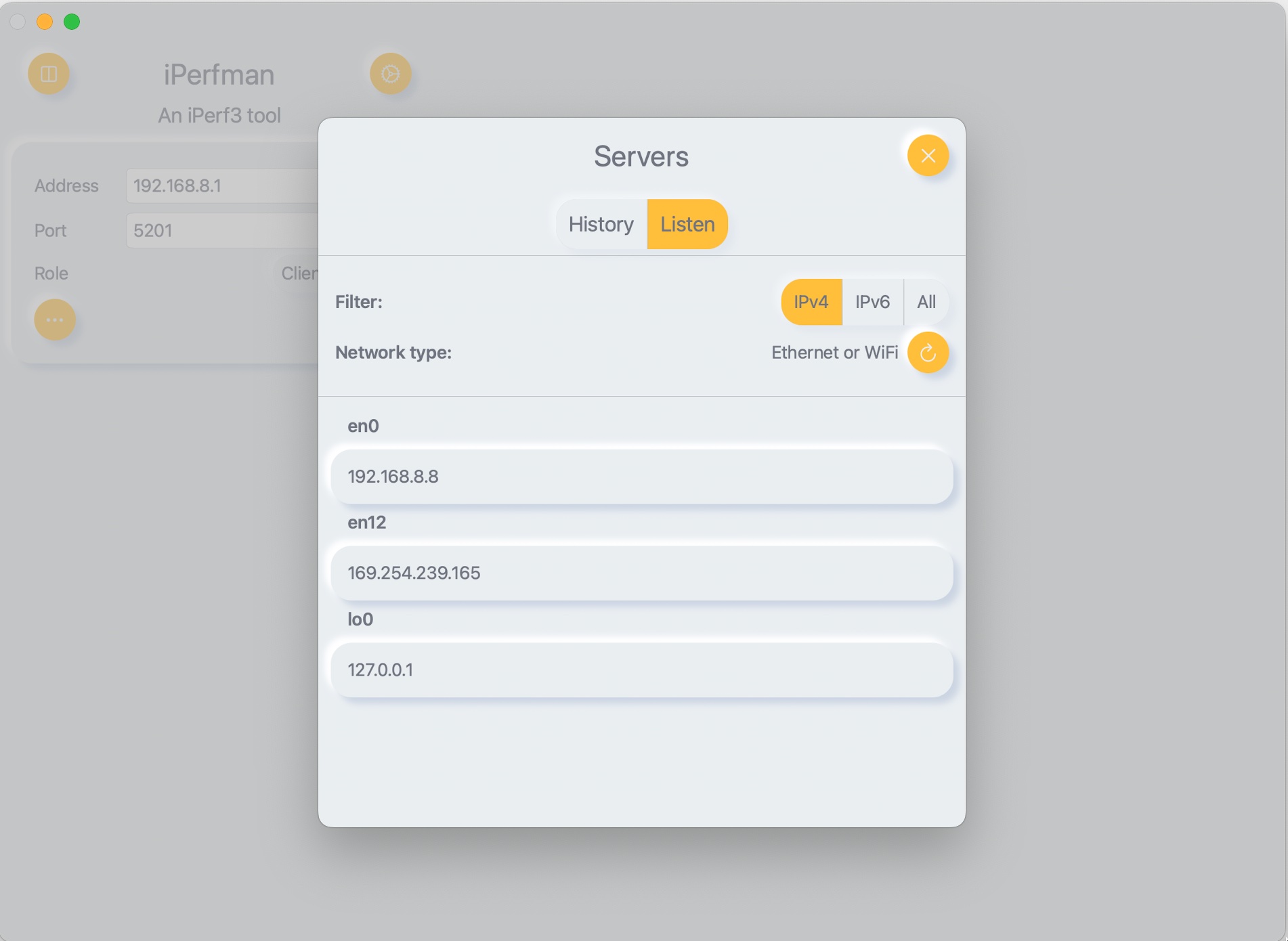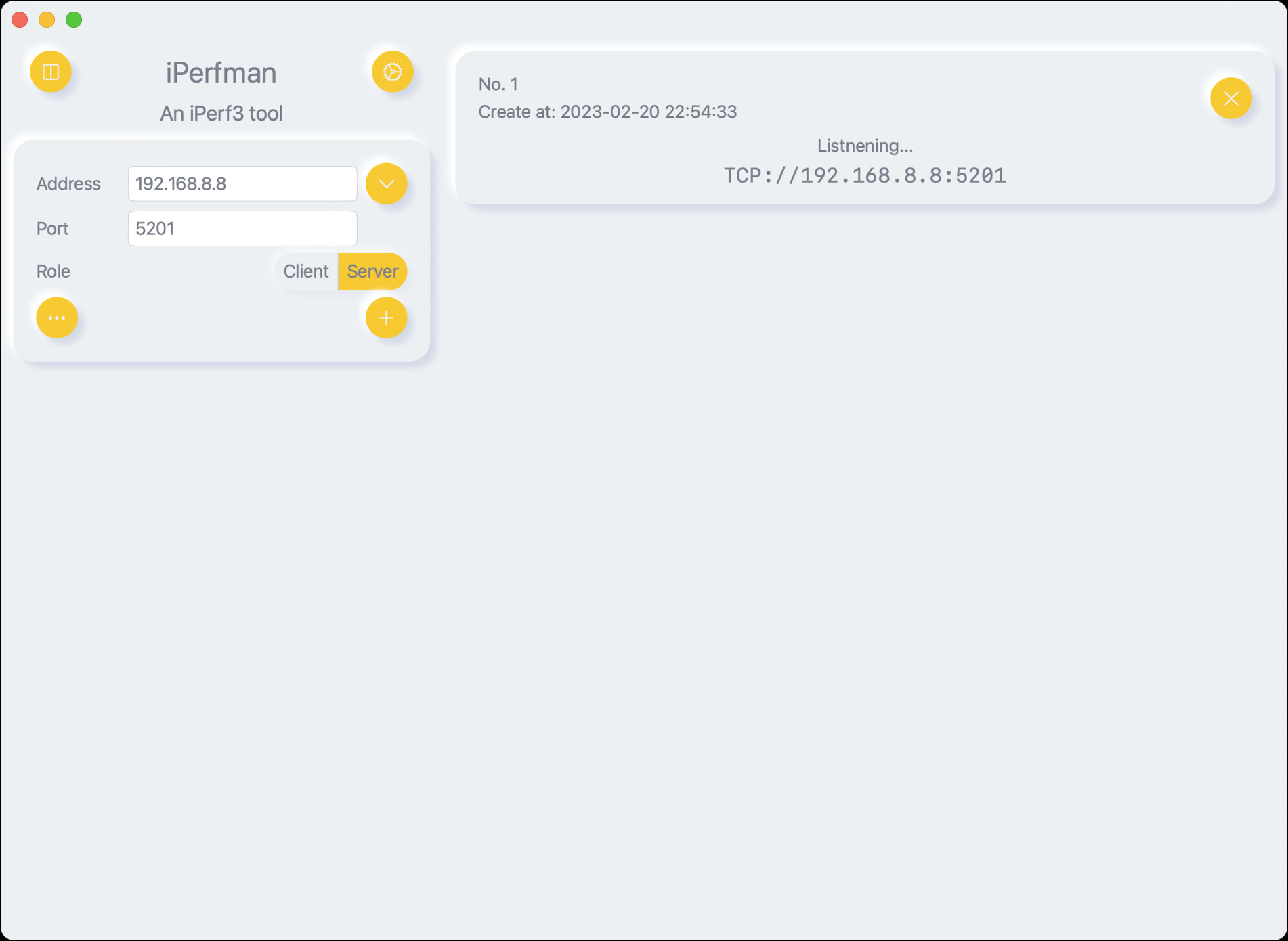 Step 2
You need to run iPerfman on your iPhone or iPad, address fill in the LAN IP address set in the first step, such as 192.168.8.8, set as client, click start button.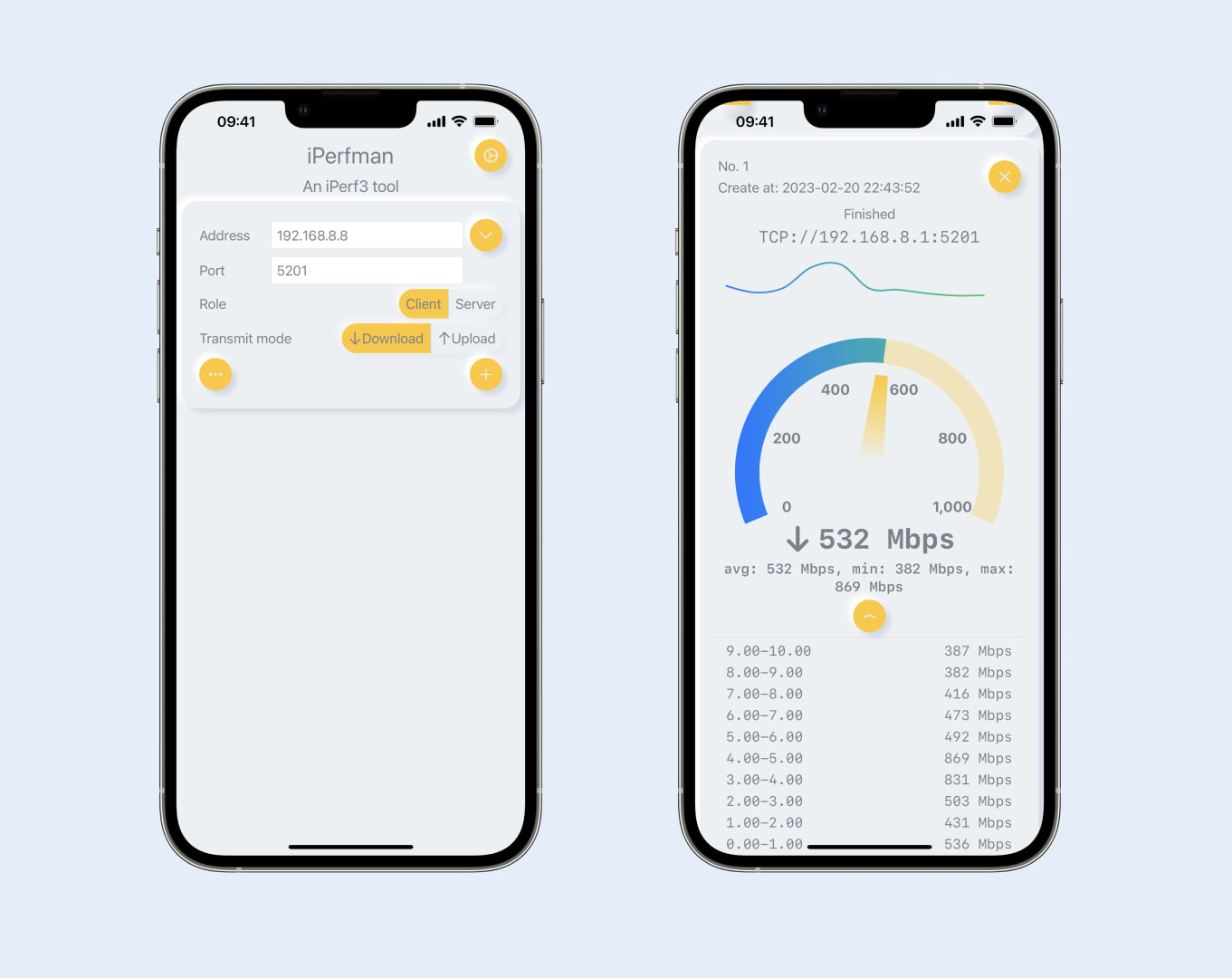 Soon the test is finished and we get the test results. Here we can test both download and upload modes separately. Here is basic example, you can test any two devices, regardless of LAN or World Wide Web, IPv4 or IPv6.
Installing iPerf 3 on macOS, here is a guide on the website iperf.fr.
On Linux or Windows, installing an iPerf 3 server requires familiarity with the command-line and installing Homebrew.
Analyze test results
Mainly analyze the average speed and speeds chart.
Internet speed can be optimized in the following ways: router location, WiFi connection 5G or 6G, avoiding partition walls, and use network cable connection to each room.
More parameters
You can adjust some settings in the user interface, here's what they mean.
Protocol
Different applications and scenarios will use different network protocols, TCP and UDP are the most common two, so it is necessary to test them separately. UDP can be set at different Rate to achieve the speed limit test.
Streams
How many parallel streams should be used during the test to test the concurrent data transmission.
End Condition
There are two ways to choose: Duration and Number of bytes . You choose only one of them.
Duration
in seconds, choose how long you want to run the test. 30 seconds is a good time to get stable data, but feel free to set it higher and walk around your home or office to see how the bandwidth changes.
Number of bytes
Select the size of the amount of data you want to run the test.
The test can be stopped at any time, so feel free to set a higher duration and stop when you are satisfied.
Reporting interval:
seconds between periodic throughput reports.
Connection timeout:
timeout for control connection setup in seconds.
Keep running
When acting as the server side, the server side keep running after each other client test is finished. If you close this option, after single test, server side will stop running.
The application is currently using iPerf 3.9 code and works fine with a different version of the server.
Still need help?
If you have any questions or suggestions about using the application, please feel free to contact us by email: 531sunlight@gmail.com. It is best to attach screenshots of the application and relevant environment conditions.